The Financial Times published an article today on the state of gender imbalance in academic computer science. Many of the facts in this arena are oft-mentioned, perhaps to the point that some of us don't critically think about them – a statistical overload perhaps. That's why I think it's important to listen to what others say, in their own words. I find that statements like these often make me think differently to when I am confronted with a statistic that doesn't have a name, face, opinion or experience associated with it. Here are a few I pulled from the FT article:
"You don't see the same gender disparity in other sciences as you do in computer science", "There's much more gender parity in biology or [maths] than in computer science" – Reshma Saujani, founder of Girls Who Code
"We know that women come in [to college] with much less preparation in computer science specifically" – Linda Sax, professor of education at UCLA
"If you start with coding, those who already know it accelerate super fast, and those with no background feel they are not good enough",  "That's a really simple thing, but it makes a meaningful difference in attitudes" – Hadi Partovi, Code.org founder and chief executive
Partovi's explanation of why it might not be a good idea to make students' introductions to Computer Science synonymous with programming is clear, straightforward, and very difficult to capture in a numbers.
In the FT article I was also happy to see Ireland near the top of the chart of countries that have the highest female ICT graduates. It's not that I'm oblivious to what's going on in my country, but these figures often only vary by fractions of a percent, and who collects the data (in this case the OECD), when (in this case 2015), and what exactly is measured (ICT vs Computing, intake vs graduates, etc.) can cause any given country to move several places or more from study to study. Anyway, this particular chart puts Ireland 6th overall, in a dead-heat with Finland (and being tied with Finland is more often than not, a good thing)!
The chart above however, does not capture what has been revealed by a recent paper in Psychological Science – a tendency for nations that have traditionally less gender equality to have more women in science and technology than their gender-progressive counterparts, which is visualized below.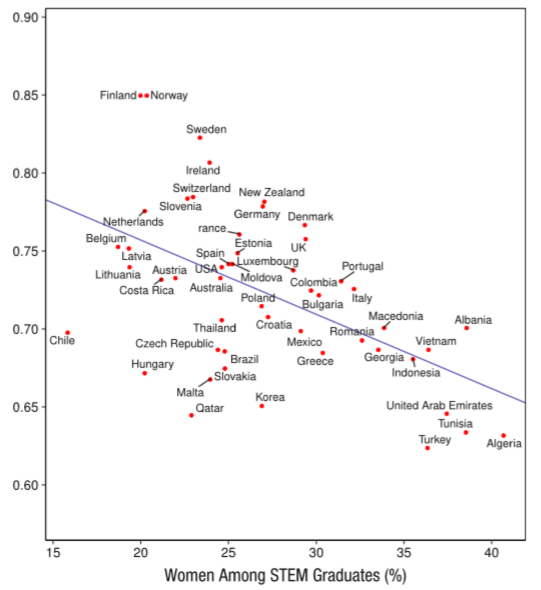 I'm not going to get into the details and the resulting theories or I'll be here all day – but a pre-print of the full paper is available here and is well worth a read. While you're at it, have a look at the Scully effect – slightly less scientific, but interesting, and a sign of the myriad number of variables affecting gender imbalances. Certainly the causes are diverse and many – most likely the solutions will need to be also. For a few more articles on 'the STEM paradox' see the bottom of this post.
Another thing that caught my eye in the FT article I was discussing at the beginning of this post, is the phrase 'sense of belonging' which is cropping up a lot lately (similar to the word frustration coming up in the microcosm inhabited by researchers studying compiler error messages – see slides and paper 28 here). This is something that we have measured in our undergraduate population here in the School of Computer Science at University College Dublin. We will be publishing some of these results at the 1st Workshop on Gender Equality in Software Engineering at the 40th International Conference on Software Engineering (ICSE) in May. I'll update this post as things there develop.
—
More articles on the Stem paradox: